Here's step-by-step instructions on how to sign up for all VO2GoGo classes and events. We use a shopping cart system, so think of reserving your seat and role as "buying your ticket" when you register for a class.
Step 1: Visit the Classes page.
The VO2GoGo live classes are listed on one page on the website, and are also available via the calendar in the sidebar to the right. Only one month's intensives are open at a time for registration, and are listed in date order on the Classes page.
You have your choice of classes, held at four different locations around LA and San Francisco. Classes exclusively open for Pro/ProPlus members to register for free as soon as the prior month's classes finish, and four days later for everyone else.
Step 2: Confirm the class and city are what you want.
Before going any further, make sure that this is the class you want, held in the city you want. Normally, you won't be able to sign up for anything but the next month's classes to be held, so if this isn't the class you want, don't try to register for it.
Each class location has a different page, so make sure you pick the right class in the right city to sign up for. If you land on the wrong page, go back to the Classes page to get the city you want.
Step 3. Choose your seat: Participant or Auditor.
Ticketing options will appear at the bottom of each city's page when the intensive opens for registration: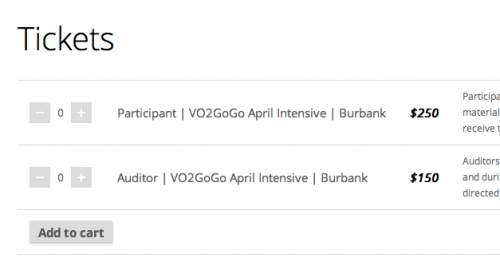 Auditor seats are $150, and Participant seats are $250. Details on the differences between each type of seat are shown to the right of the ticket type.
Once you decide which seat you want, click on the [ + ] next to that seat to change the quantity to 1. If you're reserving seats for more than one person, adjust the quantity accordingly.
Then click on the Add to Cart button, and you'll be taken to the Cart page.
As Participant seats are limited to 15 per class, they tend to go faster than Auditor seats. If there are no more Participant seats available, only Auditor tickets will be available to reserve.
Step 4. Pros only: enter your coupon code.
(If you're not a VO2GoGo Pro member, you can go on to Step 6 below.)
Once you move to the Cart page, you'll simply pay for the class. But, if you're a VO2GoGo Pro member, you can enter your coupon code in the box provided.
Then, be sure to click Apply Coupon, and your cost for the class will recalculate to zero.
At that point, complete the checkout process by clicking on the Proceed to Checkout button.
(If you're not yet a Pro, you could be attending that class, and all future classes, for free if you join the VO2GoGo Pro Membership, right now, or any time, before reserving your seat)
Step 5. Pay for class.
When you're sure you have everything the way you want it, just click on the Proceed to Check Out button, and you'll be asked for your contact information, then once you click on the Place Order button, you'll see a PayPal screen that will allow you to pay for your class (or, if you're a Pro, you'll simply be registered).
Once you pay, you'll be shown a receipt, and one will be emailed to you as well. And that's it – we'll see you in class!
If you have any questions about this, just drop David an email at davidlawrence@gmail.com.