Hey, there!
An area on the VO2GoGo site is designed to give quick video guidance and skill building for voice over.
I figured, I'm creating all these useful videos for the classes in the VO2GoGo curriculum – why not let my students and clients see them without having to watch an entire class to find what they need?
It's called The VO2GoGo Labs. It's filled with great content. Here's a sample.
Built for our VO2GoGo Pros, the VO2GoG Labs assemble in a one-page library, all the videos we use in class, plus videos I've made for different answers to past questions, all to quickly help you get something done in VO.
For example, my number one most frequently asked support question is how to attach the bracket for the AT-2020 USB Plus microphone to a standard mic stand, like the OnStage Desk Stand we recommend (the hole for the mike stand in the bracket is far too small).
So, I made a video of how to do it, and you can find it here: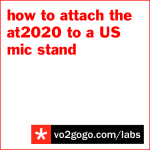 It's just a quick video, but it tells you (and shows you) exactly what you need to do to get the job done.
These Labs videos are available to VO2GoGo Pro and Pro Complete members, Pro Plus members and Pro Emeritus members. Every so often, I'll make one accessible to the public, like the one above.
One more benefit for my Pros.
What labs would you like to see? Let me know in the comments below.
I hope this helps.
David