Hey, there!
ACX now has another, much faster option for you to get paid as an audiobook narrator.
Do this, and you won't have to worry about waiting for your check.
They'll drop your hard earned money right into your checking account via direct deposit.
Here's how.
ACX is making it faster and easier to get paid. You'll still have to fill out and send in the invoice for PFH payments (per-finished-hour payments), and for Stipend payments, but those payments and your royalty and bounty payments will all be sent to you via direct deposit.
Cool, right?
But how do you sign up for such accounts receivable awesomesauce?
This is a screen shot of the email ACX sent out, detailing how to complete the information needed in your profile to pay you electronically (click on the image below if you need to make it larger):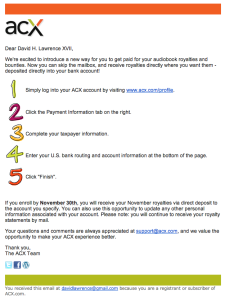 Notice the language about doing it now?
Do it. Now!
(The link to http://acx.com/profile isn't clickable in the image, but just click here and you'll go to the same page)
Hope this helps.
David