Hey, there!
If like me, you grew up with Harper Lee's To Kill A Mockingbird as a favorite coming-of-age book, and one I studied in English or Literature class, you might be familiar with the story of the recently-discovered new book from Lee, a sequel to, but written years before her most famous work, called Go Set A Watchman.
I've been looking forward to its release since it was announced.
And now, it's out.
Want to listen to the first chapter, read by Reese Witherspoon, for free?
Here's where you can do just that, in a lovely multimedia presentation.
And as a voice over performer, listen to the storytelling skills of the narrator, who uses pace, emphasis, and her native accent to create the world of Scout and Atticus Finch, and set the stage for a prequel that has already been called out for being controversial.
The UK newspaper, The Guardian, has created a lightly interactive page that gives you that first chapter, along with animated backdrops that add a little something while you're listening.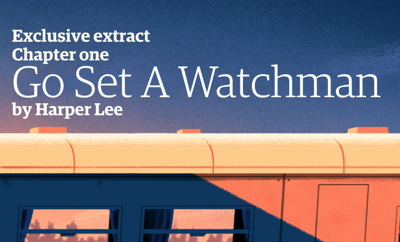 Click to hear Chapter 1
You can also read the text, but I suggest that you simply listen to Witherspoon's Mid-Southern accent bring this amazing new work to life.
When you're finished, go here to get your copy of this amazing, important new audiobook.
Click to get the audiobook
Hope this helps.
David