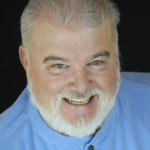 In a past life, J. Rodney Turner was a veteran air traffic controller.
Now, he's a voice-over talent, and VO2GoGo's instructor for one of our live online Zoom workouts, and has the distinction of having narrated and produced over 90 audiobooks in a three-year span, the first three years he was narrating.
After a near 30-year career as a working air traffic controller, Rodney followed his second dream of becoming a voice actor. He began his studies locally and, as he made progress, he branched out to instructors across the US in Los Angeles, New York and Chicago.
He found his niche in audiobooks where he could use his deep, husky, southern accent and his equally natural talent for storytelling to create whole new worlds in the minds of his listeners.
From one author:
J. Rodney Turner and I worked on six books together, and he brought every story and character to life in no uncertain terms. Calm and authoritative, he displayed a sensitivity and professionalism throughout, constantly checking back with me to make sure he got everything just right. The result was six audio books that maintained the highest quality not only in storytelling but also in production values. I look forward to working with him again at the earliest opportunity.
From another:
When still deciding upon an audio book for my first book, I curiously checked out some sample narrators. Well, that was the plan. After plugging in a few things of what I was looking for, I first clicked on yours. First one. Had in mind a similar flavor of Sam Elliott. Yup. I was intrigued. I googled J. Rodney Turner, found the (nice) website and listened to each audio sample on it. Yup. Life went on and I had to do some life things. Through those days, I kept thinking about that voice and how it'd sound telling my character's tales. I took the plunge yesterday and submitted this first book. And to be honest, this morning I did listen to some audio samples from a few other guys. As you can see, I am back.
And another:
I just wanted to thank you again for the wonderful work you have done reading My Brother's Books. When we began this adventure, we never envisioned how much a great voice would bring the books to life. You have accomplished this quite well. You are nearing the end of yet another great read and we are eager to have you begin the next book in the series.
Rodney brings this same sensibility and attention to quality to his teaching of the VO2GoGo curriculum in Nashville.
Rodney lives on a small farm north of Nashville in Portland, Tennessee with his wife, Julie and their daughter, Rylie.
You can reach Rodney at rodney@vo2gogo.com.
Meet Trevor | Meet Karen | Meet J. Rodney | Meet Max and Vic | Meet David