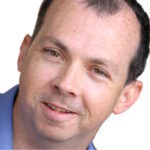 Maxwell Smart is one of two VO2GoGo instructors based in California's Inland Empire, in Lake Elsinore, and along with Victoria (below) leads both a monthly VO2GoGo live in-person workout at the Find Your Voice Center, and a monthly VO2GoGo live Zoom workout for VO students around the world.
Max started his acting career as a child, appearing in commercials for Pacific Bell, Volkswagen and Disneyland. He was also in a movie with Sam Elliott. After high school, he got into the computer business, working for companies like NeXT, and later moving into telecommunications and advanced optical networks.
In 2003, he started a nationally-syndicated radio talk show with his family. In 2007, the show hit the road, broadcasting from a different location each week, heard by over 1 million people.
Max's voiceover work includes commercials for HP, GoDaddy, RadTech, Rio Grande Family Magazine, ABQ BioPark Zoo and more.
Max co-hosts the Smart Movie Show on radio and TV. He also creates his own content by providing the voice of animated characters he developed.
Max is the primary engineer for radio and TV production at the Jennifer Smart Foundation's Find Your Voice center, where kids and teens attend workshops to help improve communication skills and increase self esteem.
You can reach Max at max@VO2GoGo.com.
Victoria Smart is part of the team that operates the Find Your Voice center in Lake Elsinore as our IE VO2GoGo location. Along with Max (above), she leads both the monthly VO2GoGo live in-person workout at the Center, and the monthly VO2GoGo live Zoom workout for VO students around the world.
In southern Riverside County, this location is convenient to the Temecula Valley, Corona, Riverside, San Bernardino, and even San Diego and Orange Counties (traffic willing).
After a career in PR and special events, a dash of web design and joining husband, Max, in a software business, Vic started her talk radio career in 2003. It was a way for the Smart family, including 6-year-old Jennifer, to spend quality time together. In 2007, they were on the road for 10 months, in a mobile studio sponsored by HP, touring 48 states and broadcasting from a different location each week.
The Smarts also established a family-friendly streaming radio channel, JENNiRADIO, which they later brought to terrestrial radio. In 2009, they founded the Jennifer Smart Foundation, and purchased an AM station in Albuquerque. There, they began the Find Your Voice program, which helps sick, healthy and disadvantaged kids improve communication skills and self esteem, while having fun putting together their own radio programs. Those workshops are now held at their studio in SoCal, where they own a local FM, 101.7 KJNI-LP.
Victoria has found her niche narrating audiobooks, specializing so far in the Science Fiction, Fantasy and Horror genres. She co-hosts the Smart Movie Show and can be heard daily at JENNiRADIO.com and on the
station's FM affiliates.
The Smart family embodies the entrepreneurial spirit we foster in our VO2GoGo classes. They have spent years creating their own content, including radio and TV programs, audio and video commercials and promos, and more.
You can reach Victoria at victoria@VO2GoGo.com.
Meet Trevor | Meet Karen | Meet J. Rodney | Meet Max and Vic | Meet David