Trevor Algatt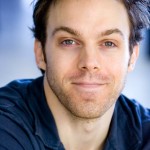 Trevor Algatt (SAG-AFTRA) facilitates the VO2GoGo Hollywood classes, as well as one of the live online monthly workouts, and is a writer, Ovation-nominated actor, and year-round competitive swimmer with SCAQ in Los Angeles.
Like the cream cheese, he's from Philadelphia.
Trevor's production of animation demos place him in a special category of VO directors and producers. His attention to detail, his pitch-perfect writing and his amazing ear give his clients demos of an extraordinary nature. His experience teaching all manner of MacOS applications at Apple and at other locations, along with his acting and VO experience, suits him perfectly as a VO2GoGo instructor.
A long-time "corps" member of the critically-acclaimed Los Angeles Theatre Ensemble, Trevor has worked on and helped develop a number of original, award-winning plays, including all three installments of The War Cycle. LA Weekly presented the Ensemble with a special award for their work, citing "excellence, technical accomplishments, and breadth of vision."
Trevor is also creator, producer, and co-host of Inside Acting, a free weekly podcast featuring in-depth, unbiased interviews with industry professionals of all callings.
Television credits include Diagnosis: X, The Young & The Restless, 1,000 Ways to Die, Prank My Mom, and The Bold & The Beautiful. Trevor's first short film Donor – which he wrote, starred in, and associate produced – is currently making rounds on the short film festival circuit, and was recently awarded "Best of Fest" at the esteemed Indie Cinema Series in downtown Los Angeles.
Trevor is represented by Synergy Talent.
You can reach Trevor at trevor@vo2gogo.com.
Meet Trevor | Meet Karen | Meet J. Rodney | Meet Max and Vic | Meet David