What is the VO2GoGo Pro Referral program?
People often say, "David, I'm sending you a client – they need your help to get going with the VO thing."
I love that and appreciate that – I really do. Now, it won't be just a nice favor you're doing for me – you'll get paid for your kindness.
Here's how it works: as you can, go through your address book, check your email list, listen to actors and VO talent you meet, and when you come across someone that you are absolutely positive is VO2GoGo Pro material, talk to them about it, GET THEIR PERMISSION, and then send their name, email address and phone number to me as a referral. You do that by logging in to the Referral Key website and clicking on the Send Referrals link that you'll find on the left sidebar, under your picture. That's how I'll keep track of who's referred who.
I'll get that referral, and it will be assigned to you as having sent it. Encourage your referral to get in contact with me (you have all my info, right?), and I'll get in touch with them as well.
Finally, once your referrals sign up as a VO2GoGo.com Pro member, you'll get $75.00 for every single one, and Referral Key will let you know when you get paid. Couldn't be simpler.
What do Pros get for referrals?
VO2GoGo.com Pro members can add one more advantage to the long list of benefits they enjoy – when they refer other students to join the Pro membership, they get a reward.
$75.00. In cash. Every time.
That's for every referral that ends up signing as a Pro member. It's simple to sign up, and there's only one requirement: that you're a current VO2GoGo Pro, enjoying all the benefits of Pro membership. And that's it.
Who should you refer?
Fellow actors, VO students, business professionals and others who would be genuinely interested in, and would benefit from VO2GoGo.com Secrets of VO classes. Oh, and are also interested in all the savings and benefits you're currently enjoying. Make sure you get their permission to send their name, email address and phone number to me as a referral.
How do I register for David's referral network?
Just register and log in at http://referralkey.com/ – then use the Send Referral link on the left hand column of your dashboard.
How do I send David a referral?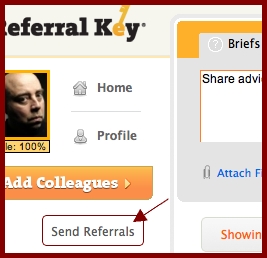 Please do this: MAKE SURE THE PERSON YOU'RE REFERRING KNOWS THAT DAVID WILL BE CONTACTING THEM. We don't need any nasty unpleasantries. And again, when you refer someone to me, send me their name, email address and phone number.
This program is only open to Pro Members – that may change sometime, but for now, you have to be a Pro to refer a Pro. If you're a Pro, and you haven't yet received an invitation to be a part of the Pro Referral program, send David an email, and he'll get you all set up. Once you're in, you'll have a special link to send referrals.