Hey, there!
You've heard me say that once you get booked on something, make updating your resume and demo portfolio part of your work.
I commit to you that this year, I'll do a better job of that myself. I've been so busy that I've become lax in that area.
So when my copy of League of Denial showed up in the mail, I tore into the package and ripped a section that I knew I wanted to feature in a demo on ACX and elsewhere.
But I had a problem.
The clip I wanted to use contained profanity.
I also had a solution: I used Audacity to fix that.
(And, by the way, before we get started here, this is exactly the same process you'd use to sanitize your retail samples when you produce a book for ACX.)
I had the honor of narrating the book League of Denial, by Mark Fainaru-Wada and Steve Fainaru, that chronicles the concussion crisis in the NFL. It was a hard book to read at time – I had to fight back the tears.
Mark and Steve set you up at the beginning of the book by taking you to the autopsy table where the body of Steeler center Mike Webster lay, ready for autopsy, and ready to change history with the discovery of his brain damage.
I knew this was a very powerful moment in the book, and I knew after I narrated it that I wanted it to be my demo for this title.
Unfortunately, the clip has a stretch that is NSFW (not safe for work).
I'm going to warn you ahead of time: if you play this first clip, you're going to be playing content that includes the F-word.
So, if you're in an environment, like work, or church, or a Starbucks, where you don't want that word heard, plug in headphones or wait until later.
If the clip was being sent to someone that I knew wouldn't be offended by it, I could just send the demo as is, f-word and all.
But because my sample may be listened to by anyone, including children, on any number of sites, including Audible, Amazon, ACX, iTunes and who knows where else, I set about the process of replacing the f-word with a tone, or sanitizing it. Here's just the relevant portion, sanitized:
Great – now anyone can listen safely.
Here's how you do it.
1. Open up your audio file in Audacity: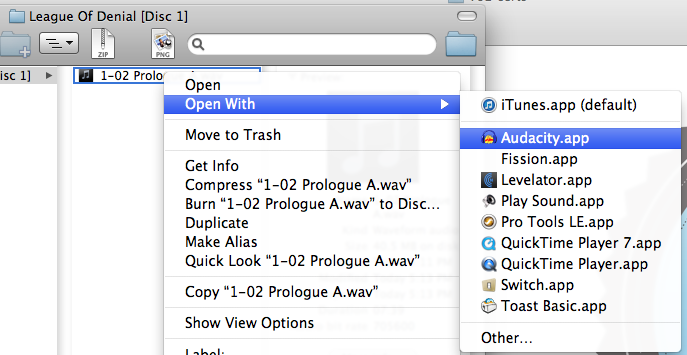 2. Zoom in on the area you want to sanitize. Use Audacity's zooming tools, the magnifying lenses with the plus and minus signs (boxed in red below), to get in close:
3. Highlight the audio in the wave form containing the word you want to replace with the tone. I chose just past the "f" to just before the "ng" because I wanted people to know what was there, but not to hear it. Use the play button (or hit the space bar, the Play keyboard equivalent) to confirm that you've got what you want:
4 Go to the Generate menu. Choose Tone...:
5. In the dialog box that pops up, choose Sine for the Waveform, enter 1000 for the Frequency (Hz), and choose a volume level that matches what surrounds the material. 0.3 is a good place to start. The Duration box shows the length of the audio you've highlighted: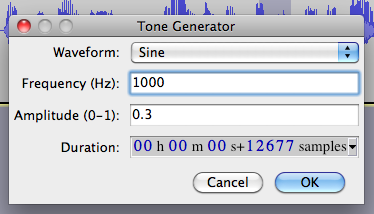 6. Click OK, and the selected audio will be replaced with a tone. Note how it looks very rectangular where the tone is:
7. Finally, export your newly edited audio and upload.
There are other creative things you can do (like replacing the offensive content with noise under that same Generate menu, or using the Reverse effect under the Effects menu), so pick whichever is appropriate for your situation.
Hope this helps.
David