Hey, there!
When auditioning, giving a loud, clean sound to your submissions is essential. The level at which you safely record those auditions, being careful not to overdrive the microphone or recorded signal, can leave you with a properly recorded, but weak sounding final product. Here's how to fix that.
Electronically, you can "turn up the volume" by using a process called normalization to tweak the audition's overall loudness before exporting to your MP3 file for submission. Normalization is a process available in any sound editing and recording software, including ProTools and Audacity.
Here's a before-and-after example of normalizing a piece of audio. The top graphic is as recorded, and the bottom graphic is after normalizing the audio to full 100% digital volume. To hear the difference, click on the links below the graphic.


Listen to the audio as recorded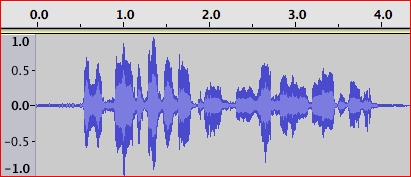 Listen to the audio with 0.0 dB normalization
Two things you'll notice: the normalized version is louder, and the room noise is more noticeable. That's because normalizing increases all audio evenly, by the same percentage. This means that your words will be louder, but depending upon the amount of room noise in your space, that noise may be louder as well.
You'll find the Normalize… command under the Effect menu in Audacity. To use it, highlight the entire audition, then go to the Effect menu, and choose Normalize…. You'll be presented with a screen that lets you choose the level of normalization, where 0.0 is the loudest, and for every full dB you choose to go down, you lower the loudness by about 8%. Audacity is usually set at -3.0 dB, and you can leave it there (-3.0 is recommended, as this is what ACX and other production companies and studios require):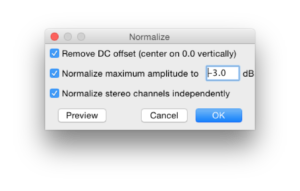 …or change that to -1.0 or 0.0. Leave the other two checkboxes (zero crossover error correction and independent stereo normalization) checked. Click OK. You'll see your waveform increase in height. You've now normalized the audio, and you can continue on with exporting your work.
Do this with every audition you perform, if needed. It really does act like a simple volume control, and adds to the power and presence of your auditions.
If for some reason, normalization lowers the height of your waveforms, there's a very good chance you're recording at too high a level, so drop the input level down a wee bit.
If you have any questions, feel free to comment below.
Hope this helps.
David